Happy Holidays! This is Kylie from Made by a Princess. For today's Sizzix Tutorial I am sharing with you how to make the super cute, brand new, cake pop box.  I shared a sneak peek on Instagram and based on the comments I think Sizzix hit it out of the park on this one!
Grab your machine, I use the Big Shot, your Cake Pop Box die, and your cardstock. For purposes of this tutorial I chose a matte red but you will see I used green glitter and red foil striped for my holiday cake pops.
Using the sandwich method place your die on a Standard Cutting Pad, then your paper (cut to size), and then the Premium Crease Pad on top of the paper and load into your machine. Once in place roll it through the Big Shot machine.
You will notice there are creases on your die cut, carefully fold along the scored lines.
Glue sides together.  I like to use Scotch Quick Dry Adhesive but you can use whatever you like.
This is the only part you need to glue...your box is just about done!
Secure the bottom "clasping" the tabs together.  You can glue this together if you like but I didn't.  I did add a piece of tape along the bottom once my cake pop was already in the box.
All prepped and ready for a cake pop!
These gorgeous glittery cake pops came from Autumn Lynn's Chocolate Sins and they are every bit as yummy as they are beautiful.
Once the box was closed up I inserted the cake pop stick back in the pop and embellished with the Thinlits Christmas Holly Set.  This was my first time using the Magnetic Platform and I loved it! The magnetic base really helped keep the tiny pieces in place.  The holly berries were made with a hole punch and the red part of my candy striped foil cardstock.
These are the boxes I made for my Sizzix Inspiration post this month.  One of the things I love best about this new die is that it can be used for any kind of event...all you have to do is choose the right paper to go with your theme!  They would be perfect for parties, favors, dessert tables, and teacher gifts.
Happy Crafting!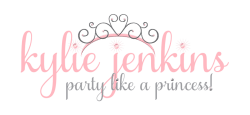 d